UWB (Ultra-Wideband) technology is an innovative real-time location system which can automatically identify and detect different kinds of moving objects in a well-defined zone. By using this technology and the data collected with its application, several logistics and production processes can be easily improved thus enhancing profitability. UWB system can also support a personnel safety system using UWB tags attached to the employees.
From an operational point of view the system is similar to an inhouse GPS. Each objects (vehicles, devices, workers…) must be equipped with an UWB tag which emits its unique ID within a defined time frame. The fix anchors then receive these signs. All the information is collected in the server of the system where data is evaluated by a triangulation method therefore the location of the object can be detected.
The data collected by the UWB system together with the area layout can be visualized on a computer this way supporting a more effective decision making.
The operation frequency can be between 3 and 7 GHz, 500 MHz broadband.
Why is UWB technology so promising?
UWB technology enables a decimeter precise inhouse real-time location system. The system is based on a so called TDoA (Time Difference of Arrival) technology instead of the RSSI (Received Signal Strength Indicator) technology applied by the common radiofrequency technologies like Bluetooth or Wi-Fi. TDoA method guarantees a more precise operation. Therefore UWB opens up a lot of new opportunities to enterprises.
Technology comparison
By the nature of the emitted signals the UWB impulses can be easily separated electronically even in a noisy environment, moreover these signals are insensitive to the effects of multipath propagation. All these attributes provide big advantage to the UWB technology concerning a traditional area coverage capability of narrowband signals. By the strict spectral signal level values defined by international standards, the power output is below the noise limit everywhere, therefore UWB does not have any effect on other RF systems operating in the same frequency range.
Components of UWB technology
Anchor ( ~ antenna)
UWB tag
UWB software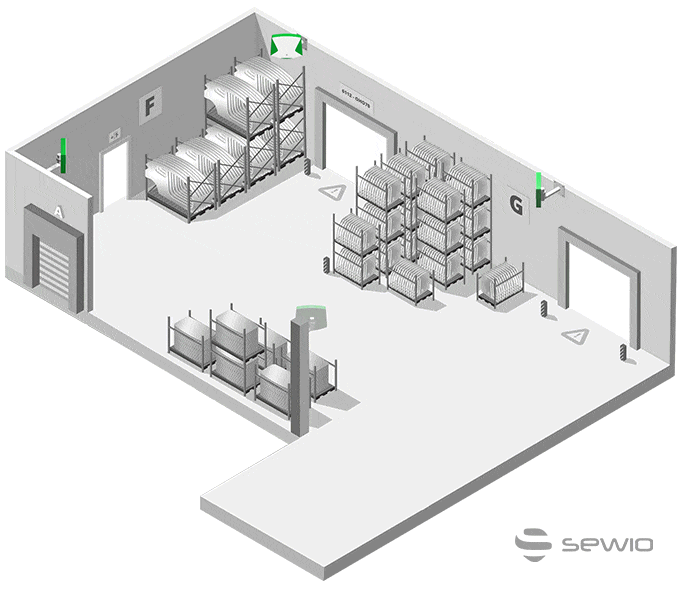 To whom it is recommended?
UWB real-time location technology is recommended to clients who would like to identify, detect and monitor their moving objects (vehicles, devices, workers…) with just a few decimeter accuracy. This real-time location system is capable to operate safely in a very harsh environment (covered by metal and dust) as well. There are several applications already existing in the area of inhouse logistics and production.
By the application of this technology a digitalized, paperless "smart factory" economy can be realized, which also meets the requirement of Industry 4.0 (Industrie 4.0).
Are you interested? For more information please visit this
link.
Should you have any questions to the implementation and maintenance of the UWB technology, please do not hesitate to contact us!